Easter Sunday early morning shopping at the meat centre in Sidwell aka Dasie area known as Springbok. My thoughts one energy drinks, prefering soft drink caffeine Score guarana instead of cups of coffee when driving early. Also here to stoke support team Red Bull before the Bahrian International Circuit Grand Prix Main Race. Mercedes Benz and Ferrari at top grid positions, hail team Red Bull, underdogs so impressing me I went and read Asterix comic #9 Asterix and the Normans. At the fridge I check, NO Red Bulls!? I ask around the staff and nobody knows like they sorry,maybe no Red Bull. English and Latin Word play for aeons. Was there energy drinks when René Goscinny did this?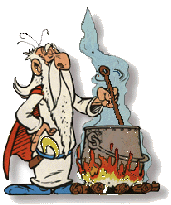 Some query I CAN have to research online maybe today after this. Not one to endorse the drinking of Energy Drinks, yet the magic potions at super powered corporate rate measured dosages found often over priced, and Obelix got the deal like envy even if fat. So before buying Red Bulls, there's a price slash of a variety, besides the Monster Energy cans, there's this Omnibus about Asterix and Obelix worth every ink drop… stocked up these read for peace of mind before the available small Red Bull cans in store.

While the Monsters get cleared out. I thought, Gummi Bears was an amazing animation growing up, and the few qualified mental working friends that I thought made life safe to spew to think trash and say what's on my mind recommended the Family Guy, now years past it's an animation I have to catch up second to The Simpsons, The Cleveland Show, SouthPark,American Dad, Archer, not to mention still finishing Blade of Immortal…now even thinking Anime, Manga, list will go on and on. Until we mixing Gummi Bears in vodka, Lord Help Us Not To Drink Drive or Smash!